©2017 ELY ROLLER SKATING CLUB

To find out more about Ely RSC please email us




Welcome to Ely Roller Skating Club. The Club promotes and encourages the enjoyment of Roller Skating as a sport and as a fun leisure activity in Ely, Littleport and the surrounding areas.
Click the buttons on the left to explore the site.
HAPPY SKATING !!

Saturdays
at Littleport
Please note that there will be no Fun Skate or Grades classes at Littleport on these Saturdays:
18th & 25th February,
18th March and 6th May.
See the Diary Dates page for more information.
E.G.M. - Thank You
Thank you to everyone who came to the
E.G.M. - a really impressive turnout. It's fantastic to have so many people all wanting to be involved. What an amazing bunch of supportive parents we now have!
Looking forward to the future and what we could now achieve.
Details of the new committee are posted on the About Us page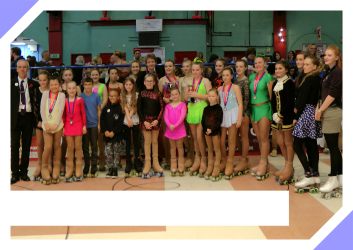 Artistic Skating Test Passes
Congratulations to all the Ely RSC skaters who passed their Grades, Figures, Free Skating and Dance tests on Friday & Saturday 10th/11th February.
Thanks to our Judges Jo Ward, Julia Phillips and Steve Bruce for their hard work over the two days.
The Tests page has been updated.
Good Luck to everyone competing in the F.A.R.S. Spring Solo Dance Competition