©2022 ELY ROLLER SKATING CLUB

To find out more about Ely RSC please email us Welcome to Ely Roller Skating Club. The Club promotes and encourages the enjoyment of Roller Skating as a sport and as a fun leisure activity in Ely, Littleport and the surrounding areas.
Click the buttons on the left to explore the site.
HAPPY SKATING !!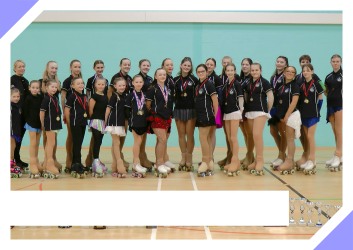 Easter Holidays
+ Competitions
No Skating
Due to the Easter bank holidays + the team being away at two skating competitions, there will be no Grades, Fun Skate or artistic training sessions on these days.
Friday 8th April (Ely)
Saturday 9th April (Littleport)
Friday 15th April (Ely)
Monday 18th April (Littleport)
Saturday 23rd April (Littleport)
A Happy Easter from everyone at
Ely RSC
Good Luck to everyone competing at the GBSA Figure/Free event (8th-10th April) and the
Maidstone Opens/Roller Cup (23rd/24th April)

Friday Fun Skate is back!!
We are delighted that the Friday Fun Skate at the Paradise Centre, Ely has re-started.
Learn to skate "Grades" - 17:00 to 18:00
Fun Skate - 18:00 to 19:00
Prices (pay on the door - no need to book):
Grades or Fun Skate £3.50, £5.50 for both.
Skate hire £1

GBSA Spring Solo Dance
Congratulations to Eloise, Mallory, Ellie, Rosalie, Ciara-Marie, Keira, Megan and Chloe for their trophy wins, and "Well Done" to the rest of the Ely RSC skaters, especially our newcomers doing their first national competition.
We're now looking forward to "doing it all again" on the 9th/10th April at the GBSA Figures & Free Skating competition. Good Luck to everyone competing.

Find us on Facebook
Ely Roller Skating Club has a Facebook page - where club news, announcements, competition results and photos will be published.
Find the page here - and feel free to like and share it.

Thursday Grades time change
The time of the Thursday "Learn to Skate" (Grades) session at Littleport Leisure Centre has changed to 16:00 - 17:00 (and will be in the small hall).
Any questions - please ask Brian.